By Steph Rodriguez
Annie Bowler grew up running through her family's 8-acre orange orchard in Ojai in Ventura County. She recalls tending to her family's small vegetable garden and helping her late brother, Tom Martin, pour wine at the Paso Robles Wine Festival, which he started in 1983. Her family's roots are embedded in California soil.
Now Annie and her husband, John Bowler, own and operate the Flower Farm in Loomis with 6 acres of mandarin oranges and an additional half-acre that has malbec grapes, other fruit trees, vegetable gardens and colorful flower beds. It's also home to the Flower Farm Inn; Flower Farm Cafe; and Flower Farm Events Barn, which, before coronavirus restrictions, hosted large weddings.
"This land has been farmed since 1905 continuously, so our soil is very fertile," Annie says. "There's been plum trees and, I believe, a pear orchard for a while, and then in between there was cattle and sheep." The Bowlers are members of the Mountain Mandarin Growers' Association, which promotes agritourism for its roughly 30 mandarin farms throughout Placer County.
Mandarins and other citrus are a commodity of local pride in Placer County, which has hosted the annual Mountain Mandarin Festival since 1994. But the county's 2020-21 citrus season — which includes mandarin, navel and blood oranges; Meyer lemons; and grapefruit — has been a bit different. According to the Bowlers, the longer, hotter summer days meant their mandarins started ripening at the end of October, earlier than normal.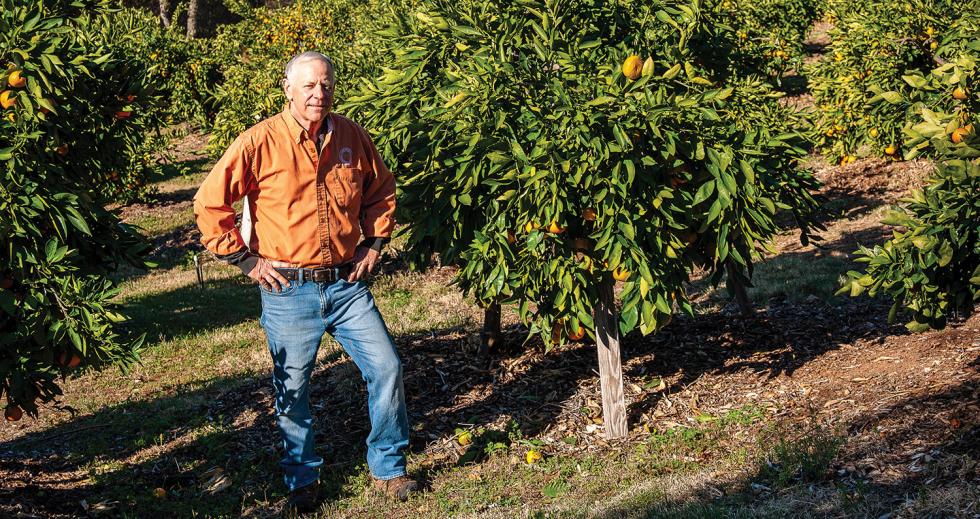 "Frankly, because it's so warm, what has impacted it is we never had citrus in October," Annie says. "It's usually the second half of November and like (around) Thanksgiving before we start selling. I didn't even imagine we were going to be ready to have mandarins. This is the earliest ever."
The area's citrus farmers say they are surviving despite the early harvest and the coronavirus pandemic, and they appreciate their customers' loyalty. As farmers and event organizers adapt to climate change and the ongoing spread of the pandemic, mandarins have offered a bright taste of normalcy during such grim times.
Mandarin Sales Are Soaring
About 260 acres of mandarins were harvested in the rolling hills of Placer County in 2018-19, according to Corrie Larsen, deputy commissioner of the Placer County Agricultural Commission. Mandarins were valued at an estimated $3.3 million in the county's 2019 crop report.
Carol Arnold, CEO of PlacerGrown, an organization that connects residents with locally grown produce through farmers markets, says there are more than 80 mandarin growers in the county, and fresh produce sales were higher in 2020 than previous years.
"It's kind of like making lemonade out of lemons," Arnold says. "I would say that the most surprising, marvelous thing that has happened is how flexible and adaptable the farming community has been. Their willingness to cooperate with a wildly changing regulatory environment has been amazing."
She says mandarins are crops that are naturally more bountiful some years, with 2020 yielding a heavy crop, and last year also had high demand from customers seeking natural ways to combat the cold and flu season during a pandemic.
With more than 800 mandarin trees over multiple orchards, Rich Colwell of Colwell Thundering Herd Ranch in Penryn says he has experienced this increased demand for fresh citrus, so he pivoted his marketing strategy to include online orders as well as more outreach to high-end markets such as Corti Brothers in Sacramento and Oliver's Market locations in Sonoma County.
"We have switched this year to more wholesale, and we're willing to drive farther than we would typically drive, because we know there's going to be demand in those places for our product," Colwell says. "We're having a very good year. The fruit is good, it's heavy, it's sweet." …
This article was originally published in the January 2021 Issue of Comstock's Magazine.